Posts
https://kenco.com/wp-content/uploads/2018/07/IMG_4783.jpg
2016
1512
Jessica Skinner
https://kenco.com/wp-content/uploads/2017/08/Kenco-Logo-2017-300x138.png
Jessica Skinner
2019-07-09 11:56:37
2020-02-13 16:43:22
The Best Below the Hook C Clamp for Concrete Pipe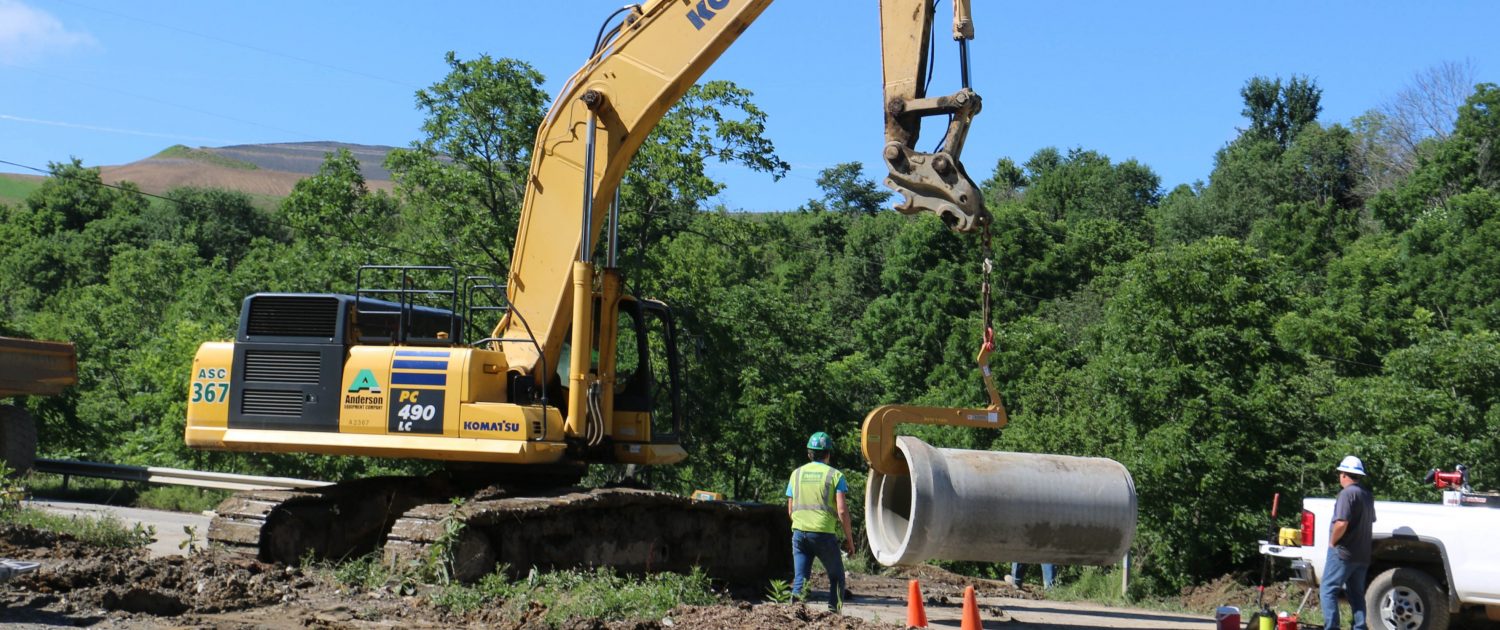 Sometimes we get a little bit lucky here at Kenco and don't have to drive far for great jobsite footage. This particular jobsite is in our neck of the "west" woods of Pennsylvania at the Bailey mining site, part of the PA mining complex. A quick background on the PA Mining Complex … it is several times larger than the island of Manhattan and the largest producing underground coal mining operation presently in North America with an annual production capacity of 28.5 million tons of coal. (Coal-tastic!)
But this story isn't about the mines in PA, but rather Atlas Services, who connected with us here at Kenco for a solution to set 8-ft joints of 36" reinforced concrete pipe.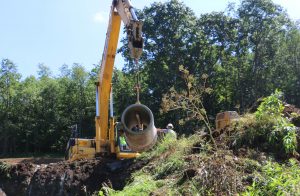 Certainly that's something we can handle! We were able to not only offer them one but TWO solutions – the PH9000M Mechanical Pipe Hook and the PH9000 Self Leveling Pipe Hook. Both Kenco pipe hooks have a 9,000 pound capacity and can move/set 12" to 48" RCP. There are two distinct differences and often it comes down to the contractor's preference on which to use.
The Mechanical Version of the Kenco pipe hook allows the user to choose a specific angle the pipe will rest at in order to set it. It uses a slide mechanism that can be moved from one tooth to another to either increase or decrease the angle of the pipe. It is easy to adjust; just relieve the tension on the sling that the hook is attached to and move the excavator arm forward or back to find the wanted position.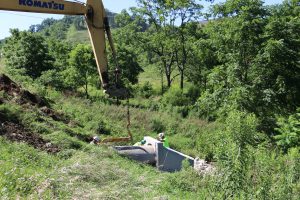 The second option and the one that Atlas found to be most fit for their project, was the PH9000 Self Leveling version. This Kenco pipe hook uses a specially-designed, pre-charged cylinder that levels the pipe based on its weight to achieve the proper set position. It requires no adjustments to level the pipe and is as simple as hooking it up to the sling/shackle assembly. As you can see from the video footage and multiple photos we obtained, the hook gave Atlas an upperhand.
They were able to set pipe in much less time that straps would have provided. They also remain safe during the entire procedure, which is something Kenco REALLY likes to see. See it for yourself on YouTube!
Thank you to Atlas Services for sharing your job story with us and welcome to the Kenco Workforce!
Contact/Company Name:
"Bucky" Watters | Atlas Services | Eighty Four, PA
Featured Project Detail:
Setting 36" RCP Pipe at the Bailey Mine Site
Equipment Used:
PH9000 Self Leveling Pipe Hook
If you would like to be highlighted in one of our Featured Projects, please contact sm@kenco.com.
https://kenco.com/wp-content/uploads/2018/03/Atlas-Featured-Image.jpg
606
770
Duane
https://kenco.com/wp-content/uploads/2017/08/Kenco-Logo-2017-300x138.png
Duane
2018-03-05 14:30:29
2019-10-24 10:59:43
Hooked on the PH9000 Pipe Hook: Atlas Services at the Bailey Mining Site
The Kenco Pipe Hook was originally designed specifically for the lifting, moving, and setting of concrete pipe and has since become the leader in the pipe-handling market. With such great success, comes a new "addition" that aims to add more versatility for higher productivity on the jobsite.
Currently both round and square box culverts are lifted by connecting and disconnecting a special rigging system or bridle to perform every lift and release sequence. This takes unnecessary time and in the current fast-paced construction field, time means money equating to money lost.
What if there were an easier way? What if one lift could do more than just one job? Now, there is just that. Meet the Kenco Pipe Hook with detachable Box Culvert Wings.
These box culvert wings are designed specifically for the job at hand. They are attached via a keyway system to each side of the hook's main body. The mechanics of the lift process remain the same as for lifting RCP. The operator approaches the culvert from the side to insert the hook. The wings will help to stabilize and balance the culvert box, assuring that no tilting or twisting occurs during the lift process. Each lift happens in a single smooth motion with the set and release step occurring just as quickly. It's a safe and efficient way to increase your productivity while saving you from purchasing multiple lifts to do each job individually.
There is no doubt that this 'dual purpose' Pipe Hook is going to become the next best "tool in your toolbox". And if you already have a Pipe Hook, contact us about a weld-on kit so you too can take advantage of this new design improvement. This can be the best investment you've made in a long time to make the job go more smoothly.
https://kenco.com/wp-content/uploads/2016/09/PH-with-culvert-box-wings.jpg
1200
1800
Duane
https://kenco.com/wp-content/uploads/2017/08/Kenco-Logo-2017-300x138.png
Duane
2016-09-06 18:53:13
2019-10-24 11:01:44
Introducing the Pipe Hook with Box Culvert Wings
Contact Kenco
Mon-Thurs: 8am - 6pm EST
Friday: 8am - 5pm EST