Soil Containment by Use of Barrier Wall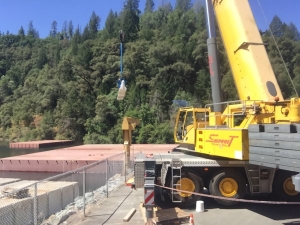 Ballard Marine Construction is a Marine Infrastructure and Utility contracting company based out of Washougal, Washington,
Their purchasing department was looking for a safer alternative to their current method of moving precast jersey wall. The tool they were using was not safe and required more than one person in order to operate it. When they came across Kenco, they were immediately sold on the KL12000 Kenco Barrier Lift.
However there is another unique way in which they are used – CONTAINMENT. Soil containment could include separating mulch at a landscape supply yard; gravel/sand/salt at a county garage; or even livestock feed at a farm.
In this particular case, the precast wall was being placed to contain soil and sediment scraped from the bottom of a lake. The barrier lifter, attached by crane, lifted and safely moved each piece of wall onto a waiting barge. They were positioned in such as way to hold soil on the barge as it was being removed from the lake bed.
The team at Ballard were very pleased with the KL12000 Barrier Lifter and will never go back to their old way of moving wall. They now have a safe and effective tool that saves them time, manpower and in the long run – MONEY.