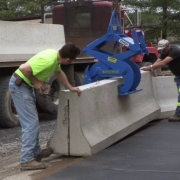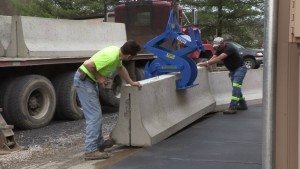 Hoy's Construction of Waynesburg, PA was tasked with setting up 12' concrete barricade walls to separate a newly constructed walkway that ran parallel to a vehicular driveway. Back at the company yard, boom truck operator Tim Williamson used a remote control to maneuver a Kenco Barrier Lift onto the necessary wall structures. The lifter had also been fitted with alignment legs, which allowed Tim the ability to position the device onto the wall without assistance. Tim loaded the wall onto his truck, transported them to the nearby job site, and then placed the barrier into its desired position. A ground guide assisted Tim with interlocking the nine walls together. The entire process to set 108 feet of concrete barrier took less than 3 hours.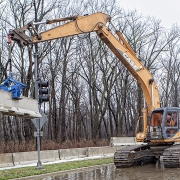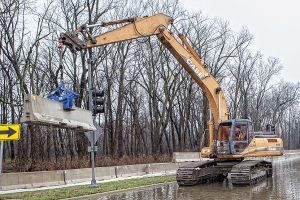 Since Hurricane Katrina made landfall in August 2005, the Gulf South region has experienced a significant increase of work in the construction industry. In addition to the regular maintenance of miles of drainage canals pre-Katrina, the industry has been forced to contend with limited labor resources and time constraints of repairing and adding improvements.
Cycle Construction is located in Kenner, Louisiana, just 15 minutes from downtown New Orleans. Cycle was recently awarded a project of installing large culverts under a busy highway to increase the drainage capacity for that area. This included installing temporary roadways and redirecting traffic.
Traffic barriers were specified in order to safely control traffic and protect their workers during installation of these culverts. Cycle ordered 34 pre-cast concrete Jersey Barriers, which were 15 feet long and weighed approximately 6,000 pounds each. These were required to ensure a better flow of traffic while at the same time protecting the lives of the workers throughout the entire project. In order to create a smooth flow of commuter traffic every day, time became an issue. The cumbersome handling of barrier wall is normally a slow and labor-intensive task. Slings and other rigging suggestions were considered, but it was decided that the Kenco Barrier Lift provided the best alternative.
They hadn't used a Barrier Lift prior to this job. Initially, they didn't know what to expect as far as production was concerned, but after bringing the crew together and performing a safety briefing and test run, Cycle felt comfortable with their decision. The following day, two trucks arrived with 18 barrier walls. According to project manager Lance Larose, "The operation went safely and quickly. On the first day alone, Cycle Construction found that the device significantly increased daily production along with associated cost savings.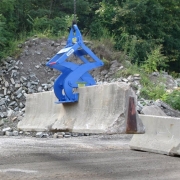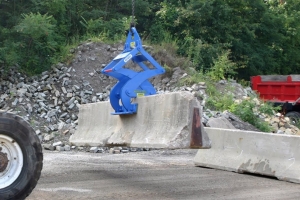 It has been a easy and pleasant experience doing business with Kenco. Tracy Black was very helpful in leading us to choose the right piece of equipment for our needs. Workers at O'Shea Lumber Company are loading highway barriers of different sizes and weights (mostly in the 7000 pound range). Since we started using the Kenco Barrier Lift, the loading time of the barrier wall has been cut by more than half, and workers feel much safer when performing this operation. Since this is an operation we don't do all the time, we use a fork lift to move the barriers. With the Barrier Lift attached, the whole process is much easier.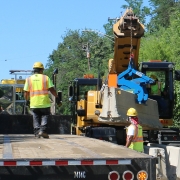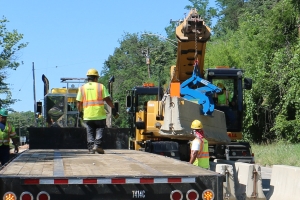 We saw the Barrier Lift advertised in a magazine and decided to try it out. It's much faster and safer than our old method of using lifting hooks.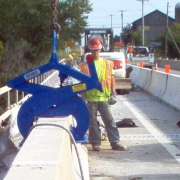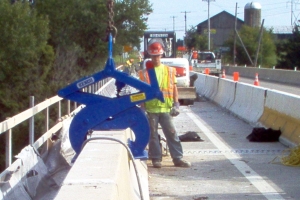 Bridge parapets were identified as possible hazards in Pennsylvania following failures. In July 2009, PENNDOT awarded a project for parapet replacement on the Wysox Bridge in northeastern PA to H.R.I. Inc. H.R.I. began the project in August 2009. The parapets were first saw-cut along the base. Since their current barrier picker wouldn't open far enough to handle the 12 1/2 inch wide parapets, I contacted Kenco and explained the situation. Pennsylvania does not have a standard size for parapets, but Kenco was able to provide us with a barrier lifter that has a wide range of grip to handle the parapet, plus other sizes of barrier wall we may encounter in the future. By using the Kenco Barrier Lifter, the parapets were simply lifted out and loaded onto the truck for removal, with no problems.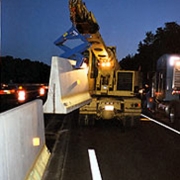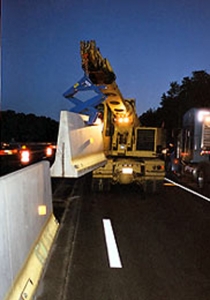 Eagle West Truck and Crane Inc. has the largest concrete barrier installation fleet in British Columbia. Eagle West started placing concrete barriers in 1990 with one truck and pup unit equipped with an articulating crane. Today we have 8 barrier installation trucks with cranes and 7 Super B freight trucks to help deliver the product to the job sites.
Thanks to the Kenco KL9000 barrier lifter, handling of the product during installation has greatly improved our efficiency and reduced the damage and scarring caused by other types of clamps. Our operators like the simplicity of the Kenco lifter and that they can pick up a variety of sizes of product without having to make any adjustments to the clamp. Tell your engineers to keep up the good work.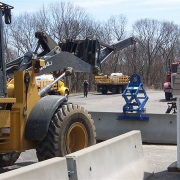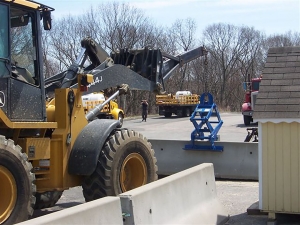 The Town of Groton Connecticut has owned your product for several months, and in that time we have really appreciated the ease and safety that our barricades can be moved.
In the past, we used forks on a loader to move the barricades, which resulted in safety issues when some were dropped either through poor placement or when they slid off the forks during travel. Additionally, we found our barricades were being chipped and destroyed every time we tried to move the them due to the forks slamming into them.After we purchased the Barrier Lift, we had no further safety issues or damaged barricades.
Although moving barricades has never been a highlight of our equipment operators day, your tool recently saved the operators a lot of time and trouble.
As usual, on a construction site (or in our case a Public Works complex), material and equipment is always on the move. What is out of the way today is in the middle of things the next day. We had stored some barricades in what was an out of the way place a few months ago. When it came time to move them, a storage trailer had been parked right behind them, which, without your tool, would have made them essentially inaccessible without some special rigging of chains and resulting in almost certain damage to the barriers. By using the Barrier Lift, the equipment operators were able to easily lift them out of tight quarters and complete the job assignment just as if the barriers were sitting in the middle of an empty lot.
Thanks Kenco, for making a great, easy to use, durable product.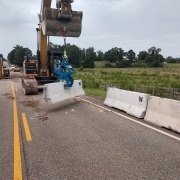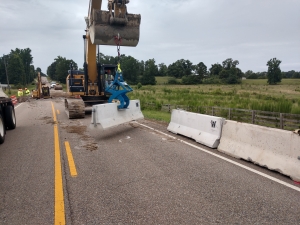 I love the new Kenco Barrier Rail Lifter that we got, I was not only able to unload a trailer by myself in 30 minutes, but it also made installing the rails a breeze where 2 men (a operator and a man on the ground) could install them in no time and not have to run back and forth because of the self locking feature on it.  It made a great addition to our Kenco pipe hook and will definitely return to Kenco in the future.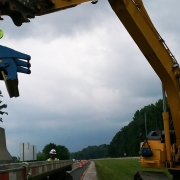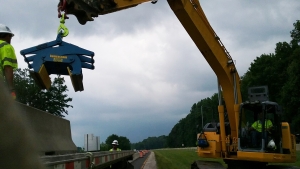 The Barrier Lift uses a scissor action and urethane pads to grip the barrier wall. It automatically opens when the barrier is set down, eliminating the need for one laborer per lifting cycle.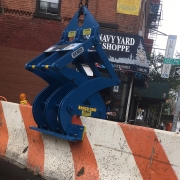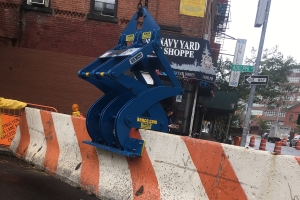 The Barrier Lift is a faster and more efficient method of moving and placing barrier. It's easy to transport because of its size, yet strong enough to get the job done. It has increased the number of barriers that we can load or unload within an hour.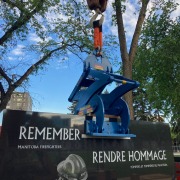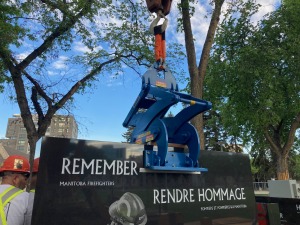 "There were 3 large 7000 lb pieces (each) that we lifted with ease!  Once the clamp bit down on the stone it did not even budge a millimeter.
We were super impressed with this tool because it saved our bacon as this was the only way we could install these dies that had (6) 1″ dia. 5 feet log s/s threaded rods to epoxy in at the same time.
Since we could not use our normal lifting slings, the Kenco KL 9000 was our only hope.
Thank you Kenco!  You made our life easier!"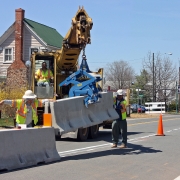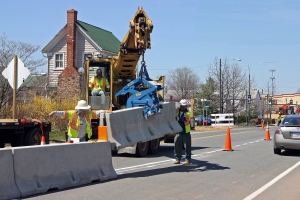 A fellow contractor referred me to try out the Barrier Lift (shown here with alignment legs). It's faster, safer, and protects the quality of the barrier.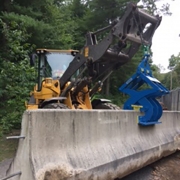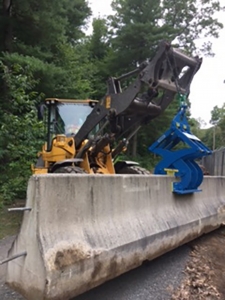 Compared to our previous method of using cables and hooks, the Barrier Lift is definitely time-saving.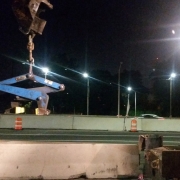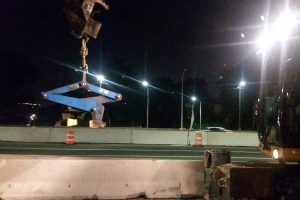 We use the Kenco Barrier Lift on highway jobs that require placement and/or removal of concrete barriers. The lifter is durable, safe, and efficient. Our trucks are now loaded at a rate of three to four per hour.
*Lifter shown here is a legacy version of the KL9000.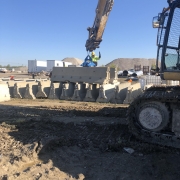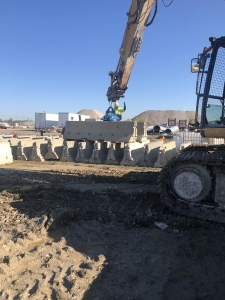 We love your product; it worked great!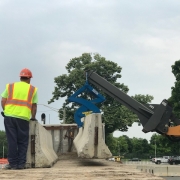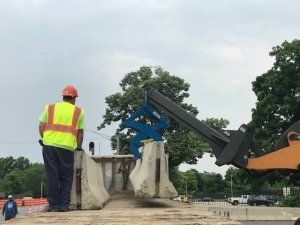 "We use the lifter to lift the concrete barriers to form a passageway for pedestrian safeway during a event at the racetrack. The previous way we moved the barriers was with a large forklift but now we use a front end loader with a straight arms."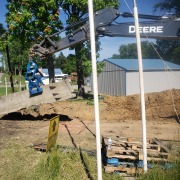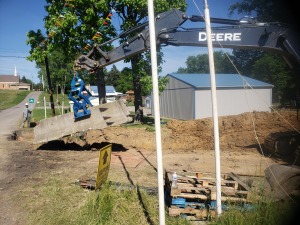 "This product makes the process of moving jersey barriers much safer than traditional lifting. This is also a much faster process with its automatic grasp and release."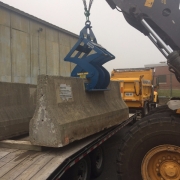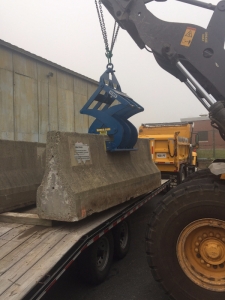 We save money because with the Barrier Lift , it's not necessary to have personnel to hook or unhook the lift.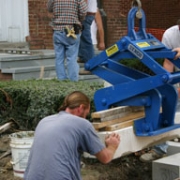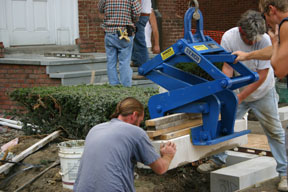 GRAHAM, INC. of Ligonier, PA used a KL9000 semi-automatic (now sold as a fully-automatic) to place ten inch – three hundred pound concrete block along a sidewalk that they had recently poured. Operator Bob Terchik was able to use the device to lift, position, set and align the block. Owner John Graham originally planned to move the blocks with a sling system, but a request from the town council to complete the sidewalk for an annual local parade and festivities called for a faster and more efficient way to increase production. John was already familiar with the Kenco Barrier Lift capabilities, so he placed a call to Kenco and had his crew up and running in no time.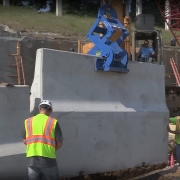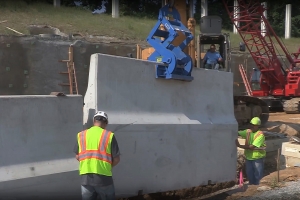 With the Barrier Lift, there is less slipping, plus it lifts the taller barriers much more safely.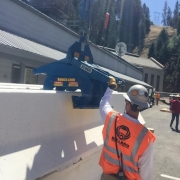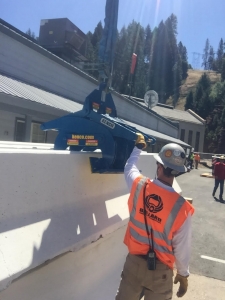 "Ballard is a commercial diving company and we are using K rail to surround 4 large barges. This gives us containment for the dirt we are removing out in a lake. Your tool is a very safe and quick user friendly way to swing K rail over the water and onto barges to place them exactly where they need to go. The old tool was bulky and didn't give us a very safe feeling nor did it make placement with one person an option. Thanks Kenco!"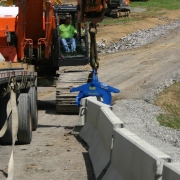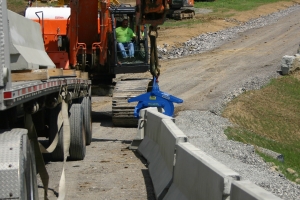 "We use the Barrier Lift daily on all of our barrier jobs. It's quicker, safer and it works great! In the precast barrier industry when it comes to installing, resetting or removing barrier, the barrier lift can be the most cost effective tool owned by a contracter."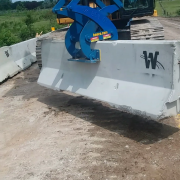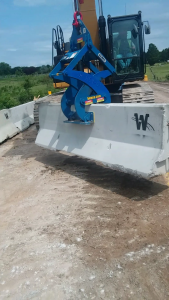 "The method we used before were using chains and forks to move the walls but the Kenco lifter makes it so much easier. The Kenco lifter is built reliable, strong."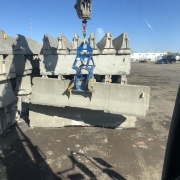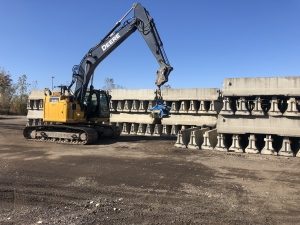 "We have been using the KL12000 on I-80 in Lorain county Ohio to place the wall on the road. I am currently in our yard unloading since the season is coming to an end. I like the newer style where it is wider than the previous model. All in all, it think it's a great product that's super efficient to load and unload."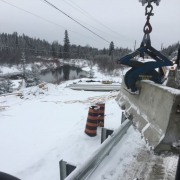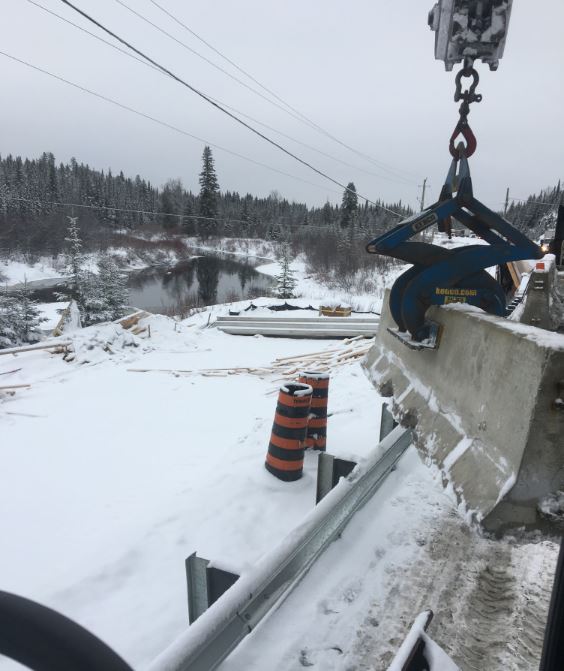 "The clamp works awesome! Makes moving wall a piece of cake!"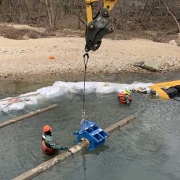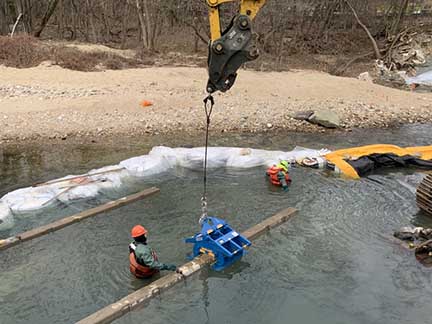 "We purchased three of the Kenco KL12000 series and since receiving them, moving barriers is like picking candy from a baby!"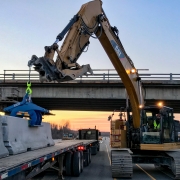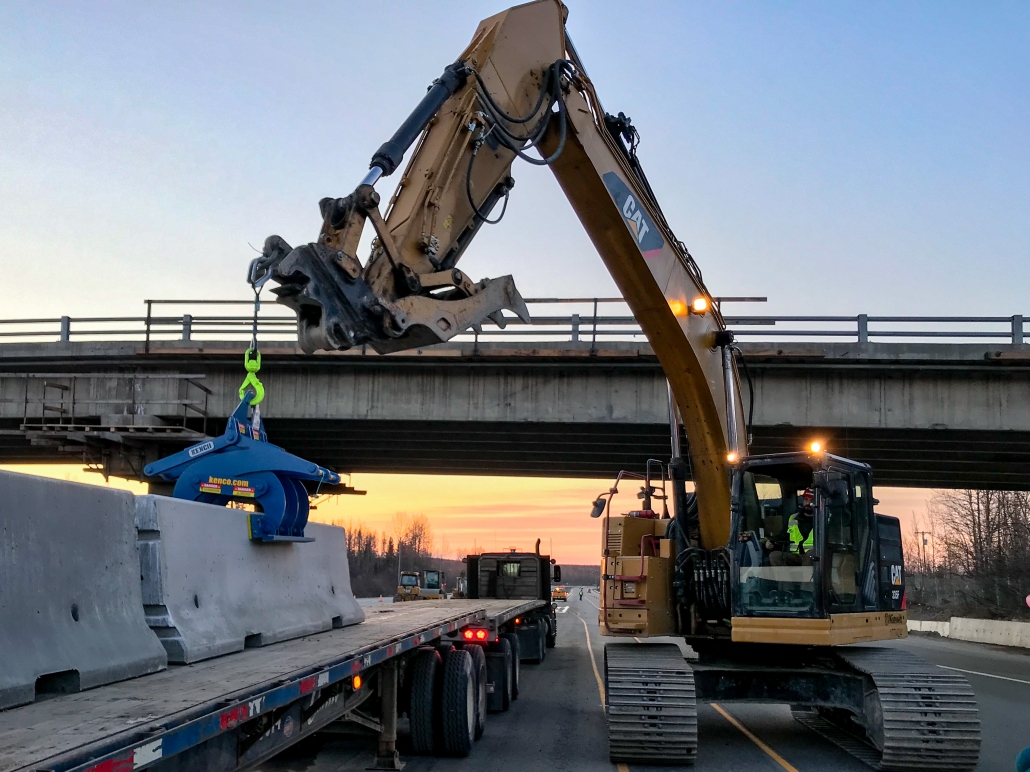 This barrier work was for a traffic realignment on a bridge construction project in Eagle River, AK. The barrier run was 9600' for a total of 768 barriers, which we were able to set in 4 shifts thanks to the ol' barrier lift. We primarily use the lift at the beginning and ends of our projects for setting barrier, but almost always in fairly long runs. The lift makes our job way easier and saves a substantial amount of time, not having to climb up and rig / spot every barrier on 70+ trucks. It also cuts down on the amount of time exposed to the risks involves with setting barrier. Big fan of this tool.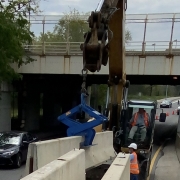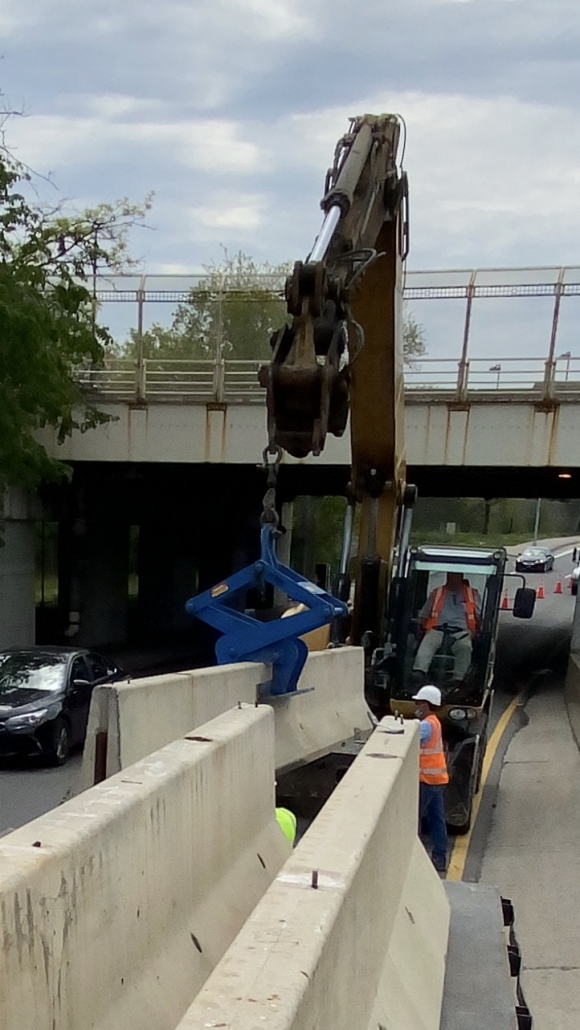 "The (Kenco) barrier clamp exceeded our expectations because we only need one man to do the job. It is much faster. The clamp helped us a lot because we don't have to clean the holes to place anchors for connecting the barrier knocks, especially in NY at winter time. These holes fill with water, freeze and then we have to brake or melt the ice, losing a lot of time."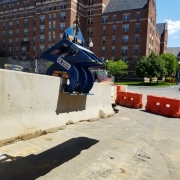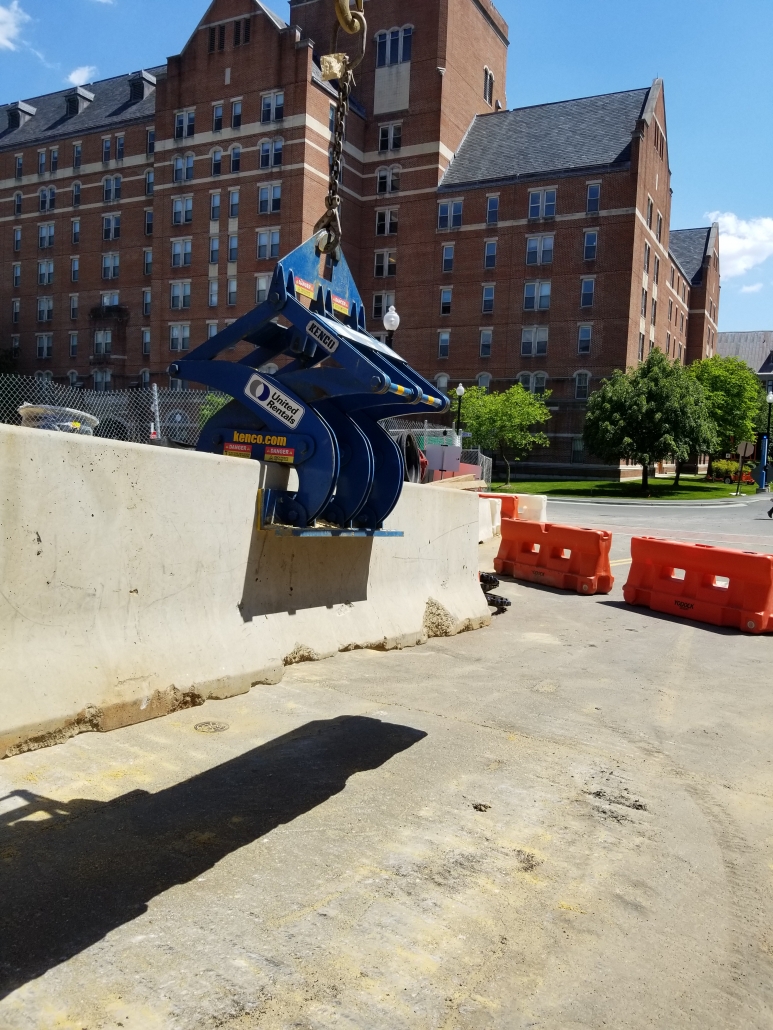 "Thank you for making easy work of these traffic barriers.  We are currently working at Georgetown University installing new water lines for the school.  All of our work is in the roadway, and we have to use the concrete jersey walls to protect us from traffic.  I have moved these walls for years with forks and it is never fun.
The Kenco clamp you supplied us made VERY short and easy work of it.  I can now move 10 or more walls where I need them in the same time I moved 1 before.  This will definitely save me time and money on EVERY job I have jersey walls to use. Thanks again."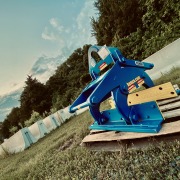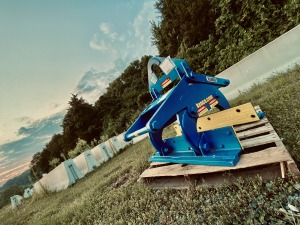 "This product is a game changer. As a driver I can say the Kenco auto latch speeds up loading time drastically, while also making it easier and safer for myself. The auto latch keeps me from having to climb on and off my truck to manually lock the squeezer off of the barrier. In turn this allows me to avoid falls and other hazards due to climbing the truck or trailer, also it allows me to remain away from the machine by not having to manually unlock them, I can now stay back at the length of my tag line while loading or unloading. Along with safety it allows me to save my energy so I can focus on driving after the loading process instead of focusing on the physical fatigue from climbing up and down several times. They also help when limited man power is available making loading and unloading a two person job, eliminating the need for a 3-4 man crew to do it. Got to say your product makes it safer faster and more efficient in every way possible."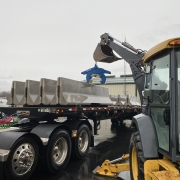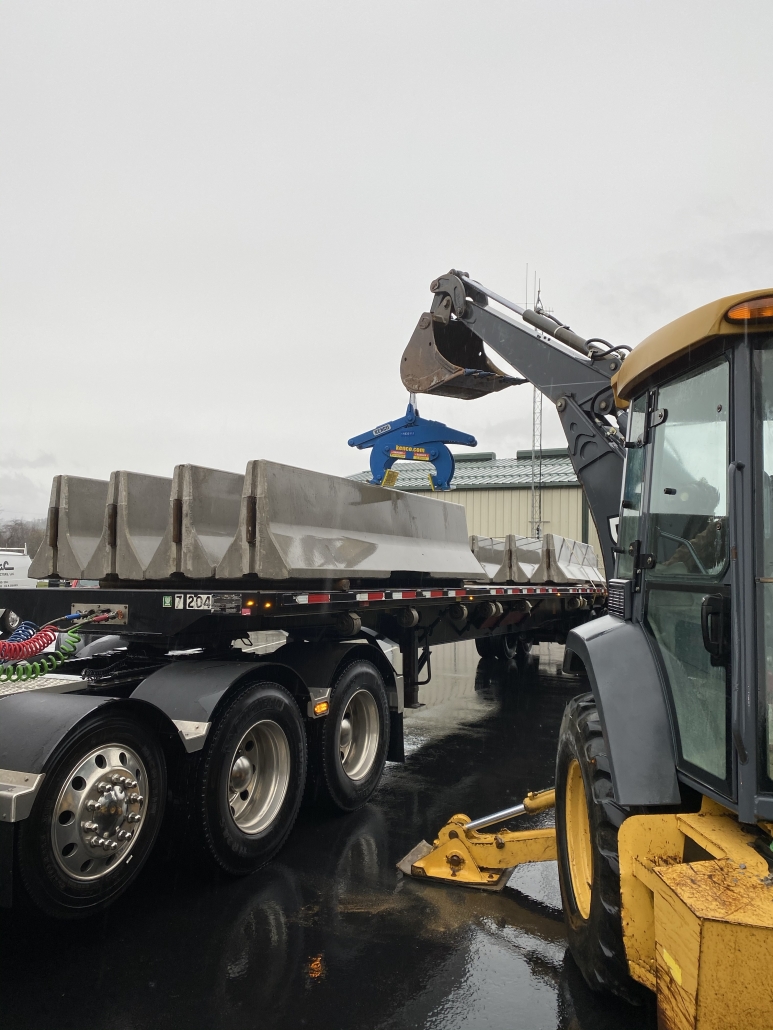 "We used the Kenco-Traffic Barrier Clamp to set a retainment wall for Dish Network. It made the job a breeze. It also kept the barriers from being damaged had we used another method to set them."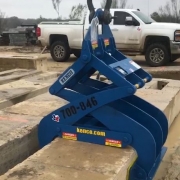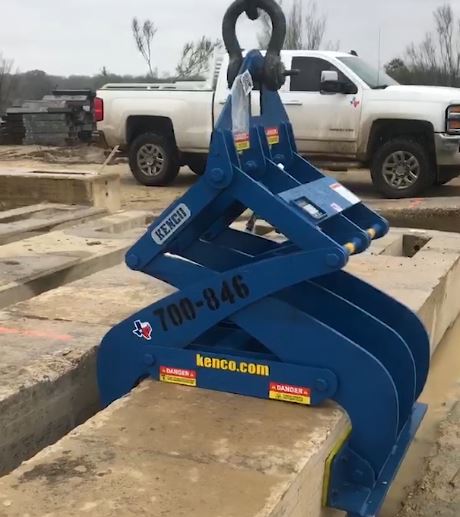 "Moved 460 Texas Low Profile Barriers without a hitch in 2 days!"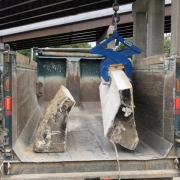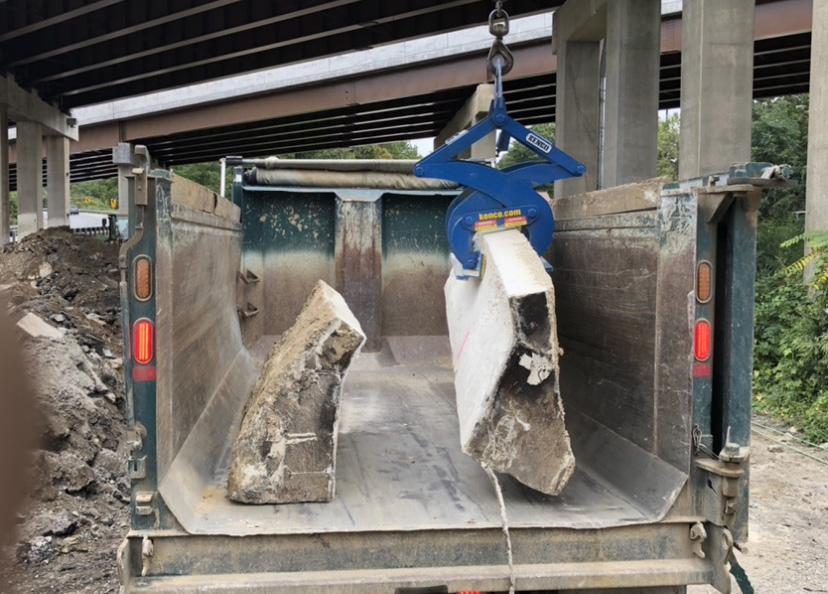 "This project entailed removing slabs of concrete that had been poured under bridges on steep angles. The lower end that butts up to the back of barrier was 24" and the top edge was 7-9" thick. Instead of drilling every 10 feet and putting lifting points, which is costly, we decided to remove the existing barrier, slide the slabs down into the hole, stand them up and load on truck to dispose of them.
The main reason we did not want to drill and use rigging is that one of our employees would have to get in the back of the dump truck and unhook the rigging which is very dangerous if the load shifts."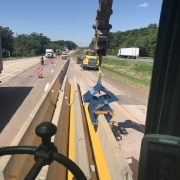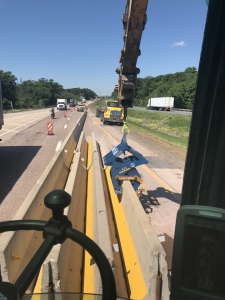 "We use your barrier lifter daily. Actually, we use three of them daily. We have about 20 of them in our arsenal. We manufacture, truck, and set barrier all over Pennsylvania. Amazing product that you guys keep making better.
This job is on Interstate 80 at the Interstate 81/80 split (Drums, PA). It was a road resurfacing job with Pennsy Supply being the prime contractor. This was around 1,400 linear feet of concrete barrier that we were removing during the time I took the picture.
My clamp is a couple months old and has set or removed roughly over 20 miles of barrier, and still functions like brand new."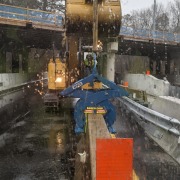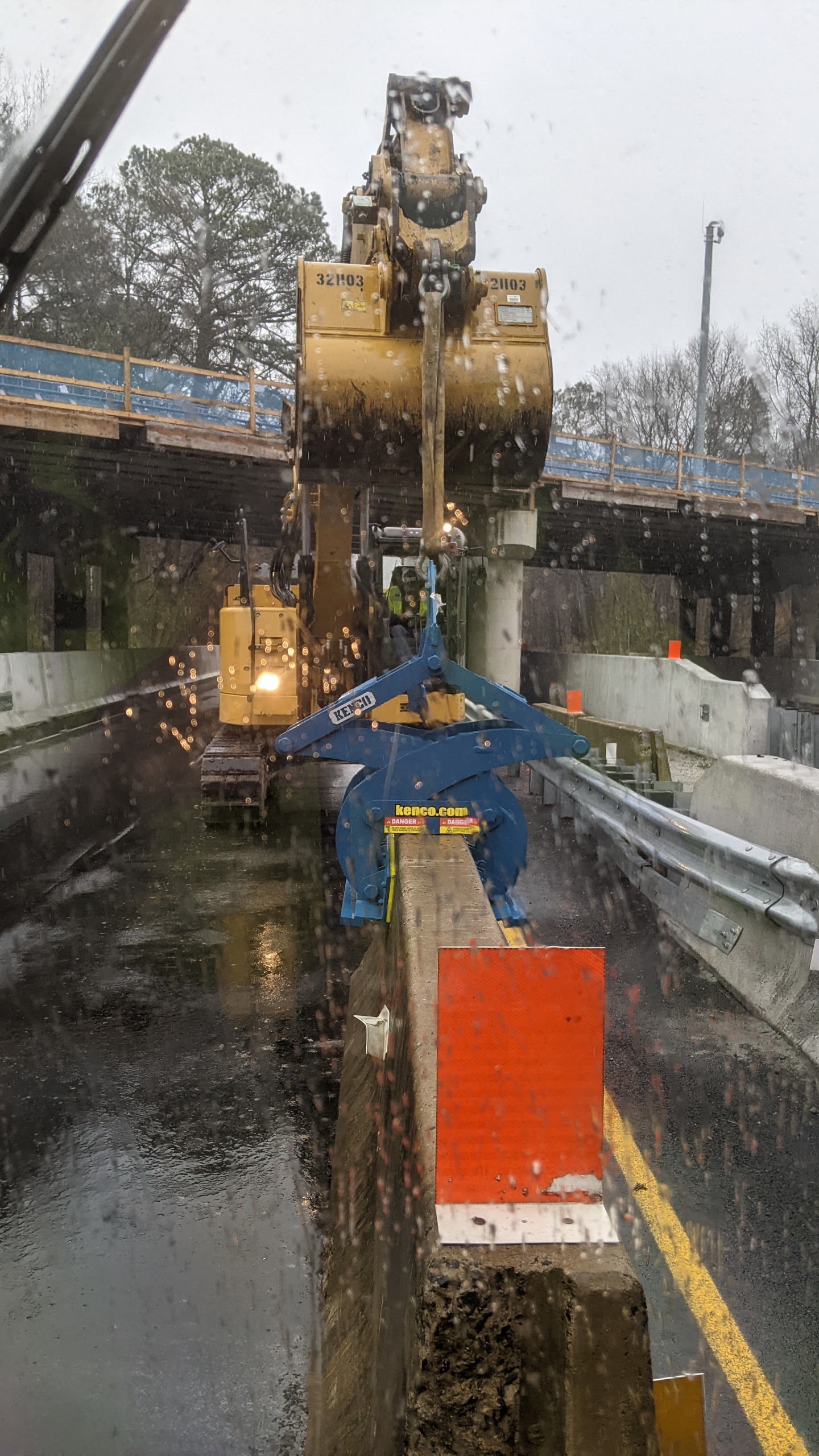 "We are currently working with VDOT on the Expansion of the I-64 highway and building a new high rise bridge. We use the barrier lifts daily for various jobs, from lifting barrier walls to moving MSE specialty walls. Before when we couldn't use the Barrier lift (cause it's being used somewhere else) we would just use an excavator with a bucket and thumb or use straps. We actually just got the one I sent a picture of and that was the first job it was used on! We were moving the barrier walls so the crane could get through."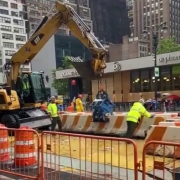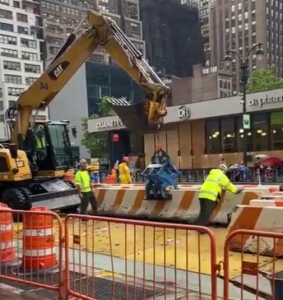 "We have 30 barriers 20' and four 10'. Before, we used knocks to pick the barriers. Then my asked the supervisor to bring a barriers clamp that makes our job easy."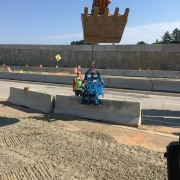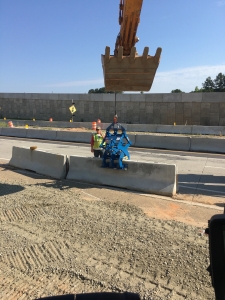 "We only use Kenco clamps at CMES inc., whether using a wheel loading or excavator they make work a lot safer, especially working near traffic and right areas, I found they even work on badly damaged barriers allowing you to safely move them without much worry!"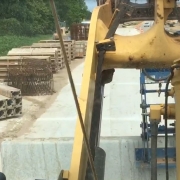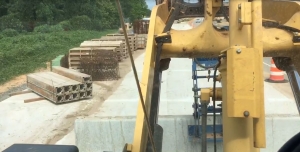 Our customers prefer Kenco over any other company.  When we asked them why they choose Kenco over the competing lifters, they said, "Kenco is the best for the simple fact that it never drops the barriers; every other brand finds a way to drop and ruin their concrete barriers."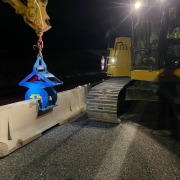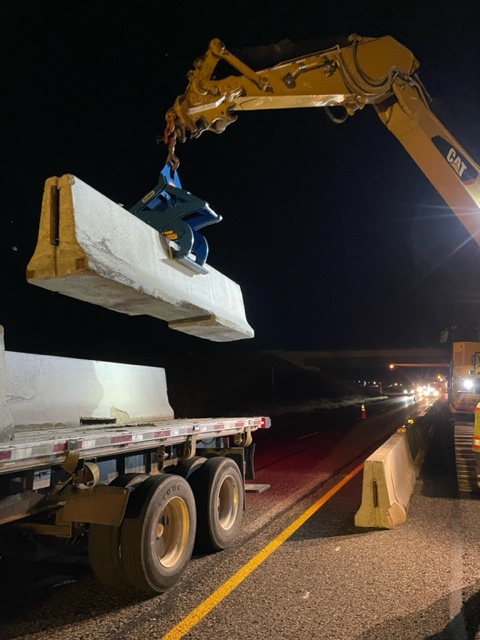 Starting the job off right! As we begin our highway project in Colorado … barrier is our first line of defense to keep our crews safe. Thanks to you barrier picker we also get the chance to set barrier safely! This is the best tool for the job to keep ground man interactions to a minimum and give all the responsibility to the operator. The convenient design allows our operators to work efficiently and away from traffic.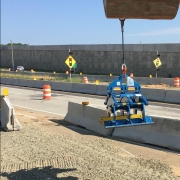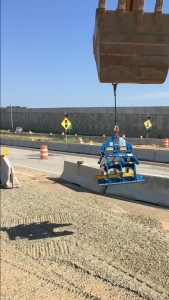 "I do road construction and use barrier clamps often. These clamps performed better than any clamp I have ever used. It opens and closes great, the balance is perfect. Even on broken barriers it picks them up with no problems. With that being said, it also makes it the safest clamp. By eliminating that helper in those hard situations loading and unloading. I highly recommend Kenco clamps."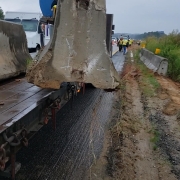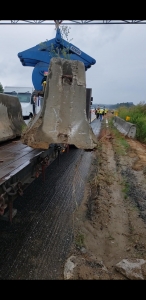 "Absolutely love using the this clamp. I'm a female on the job with a bunch of guys and I'm the only one with the new Kenco clamp that makes me stand over the rest. Thank Kenco your products are amazing!"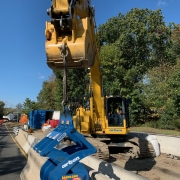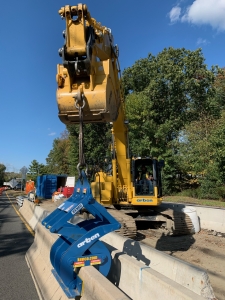 Using the KENCO barrier clamp to place concrete barriers for a temporary traffic pattern! Quality product and very simple and effective design!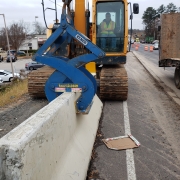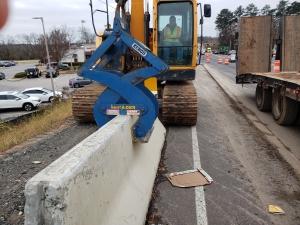 At CMES all we use is Kenco clamps. Kenco is the safest and most durable clamp in the industry.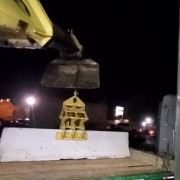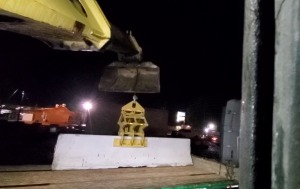 "Kenco hooks have always been our go to.  Currently working on the 75/24 project in Chattanooga Tennessee. This was taken when we were moving around 11,000 feet of Barrier."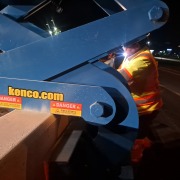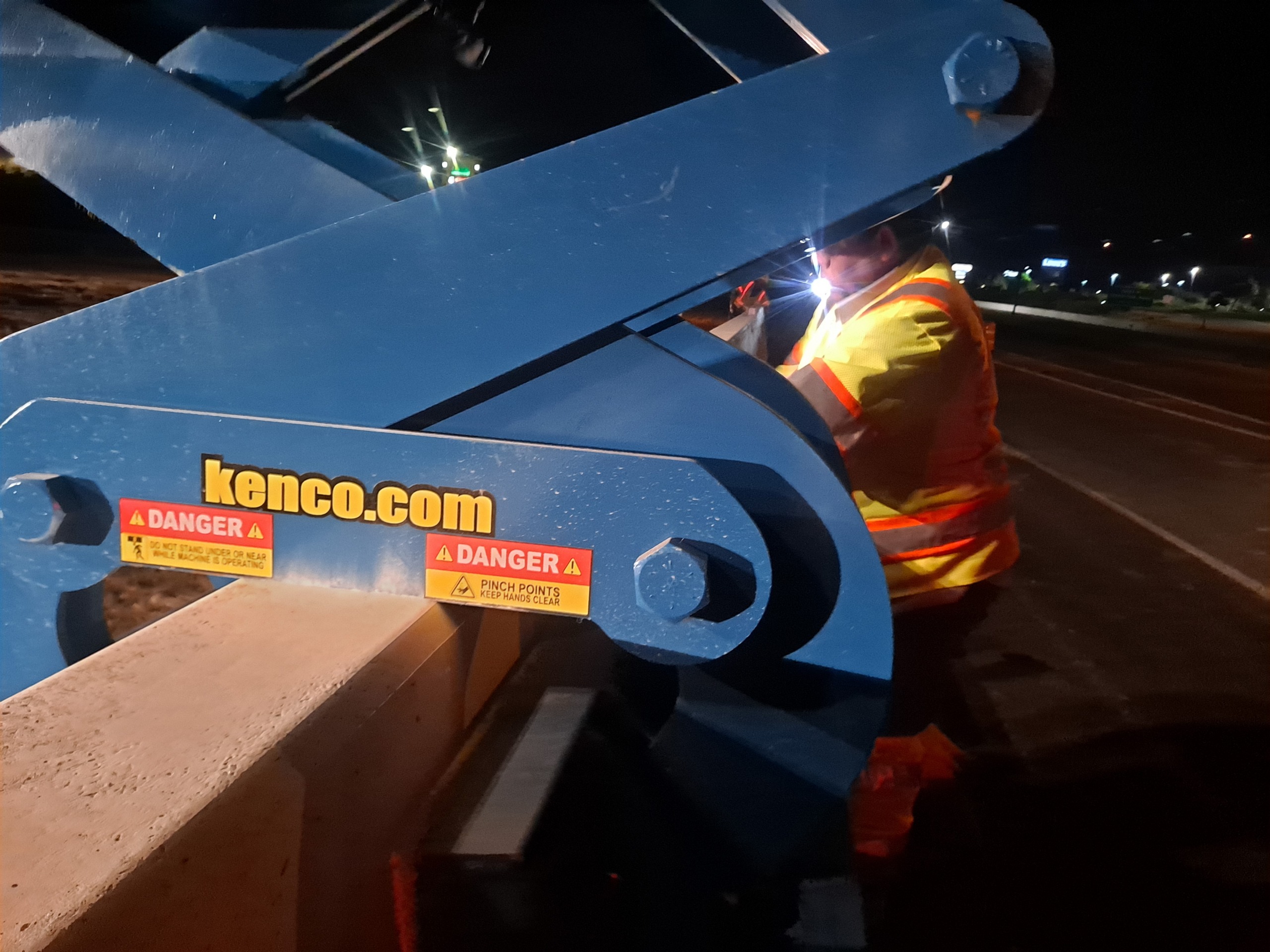 I am an excavator operator for Zachry construction and using this product is the best thing ever. This invention has helped us set 83 CTBs in one night. It's very durable and easy to use. Thank you Kenco for this product.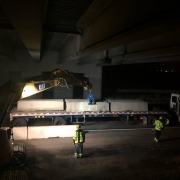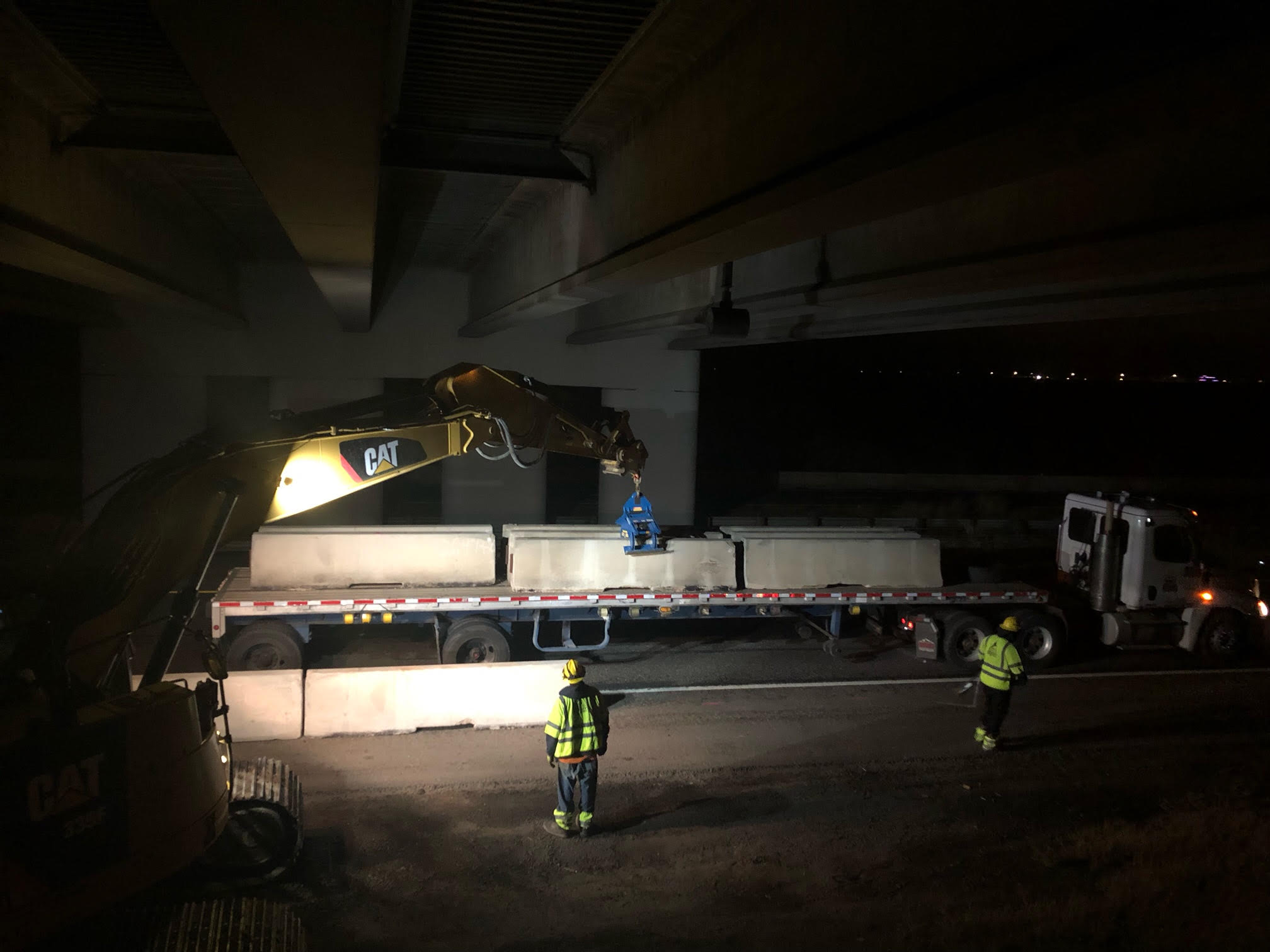 Your barrier picker has helped us in tight situations. On this project we have roughly 30 miles of barrier to set and as you can see we have some tight spots under bridges that the KL9000 has been very helpful for.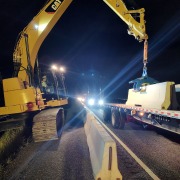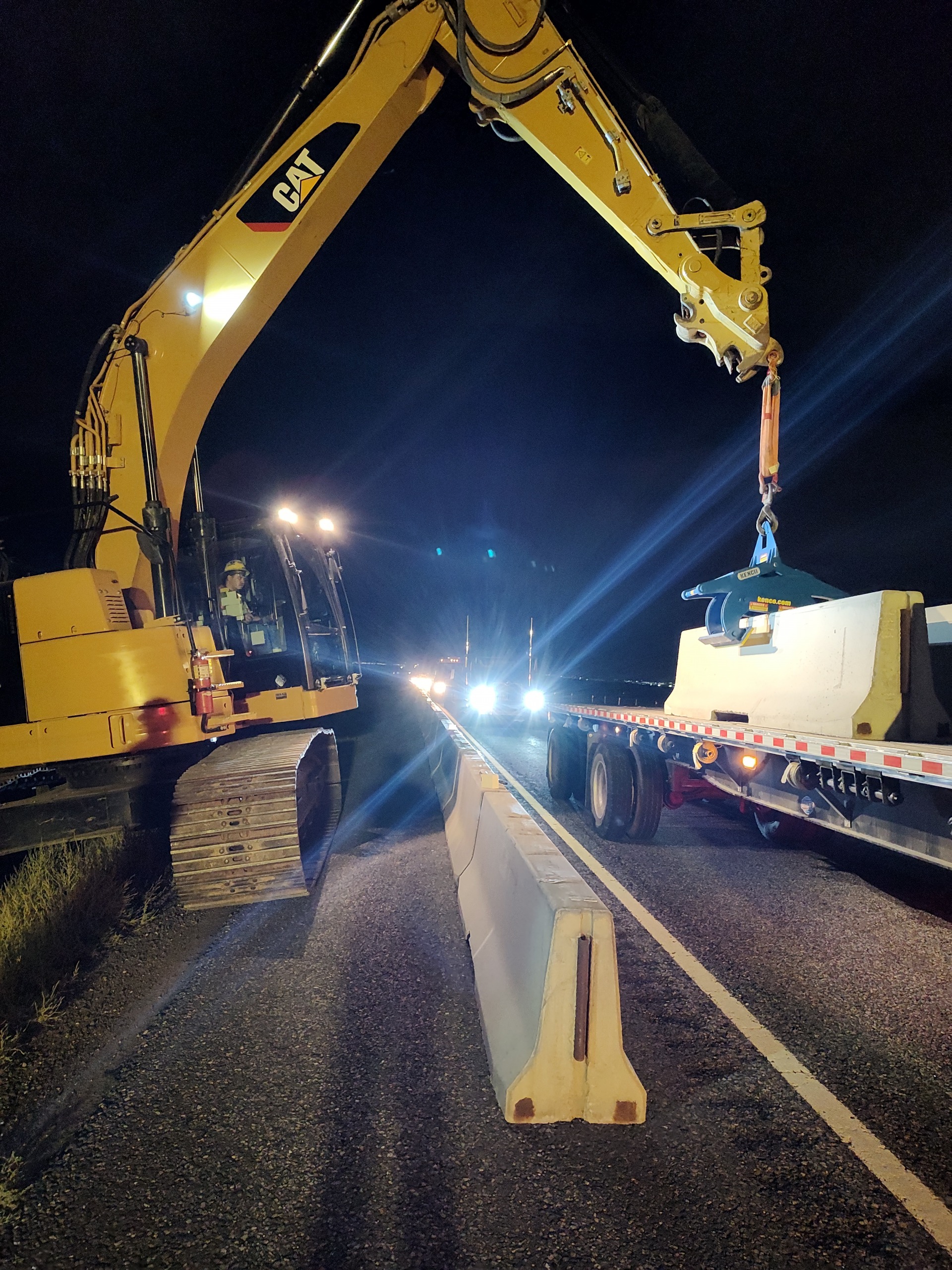 I am a civil at Kiewit infrastructure and we have been using your barrier pickers on central 70 and 470 projects in Denver. We love your product and thanks to the awesome design we are double projected barrier sets on projects. Killin' it!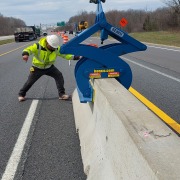 "We have been using this Kenco clamp for years it helps a lot and it is safety for us as a employees it really helps to do our job faster."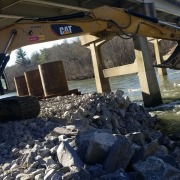 "Awesome product. Works every time. Saved us so much time & hassle."
"Works great; awesome product!"