Slab Crab Wide Mouth 42″ Bucket
The Kenco Slab Crab bucket recently went through a bit of a makeover. Each bucket will now feature rows of serrations on the upper ribs of the bucket. These teeth help to grip the slabs tighter, ensuring ZERO slippage. The process of seating slabs is the exact same so operators can go right to work using the same principles as before.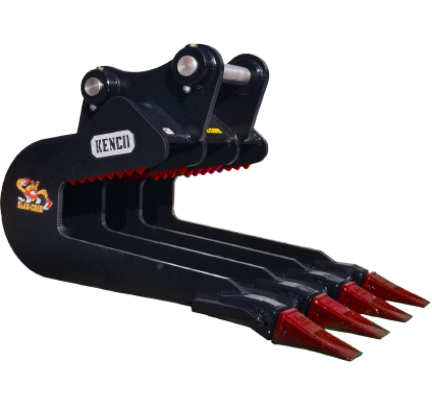 Standard models of the Kenco wide slab crab have always included 36″, 42″, 48″ and 54″.  However this new design has prompted the Wide Mouth 42″. This super wide slab bucket can pick up a 4″ to 16″ thick slab versus the standard 4″ to 12″.
Our attachment for concrete removal is the perfect size for most bridge demolition jobs and can fit most EX250 and EX300 class machines (CAT 322 & CAT 330, Case CX250 and CX330, Komatsu PC270 and PC350, plus many more).
If you are in the market for a pavement removal bucket, now is the time to purchase.
Lead times (as of April 1, 2020 are as short as 2 weeks). *Note: lead times will likely increase quickly over the next month. Request a quote today.