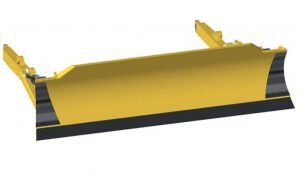 Manual Angle Blade
Compact design
Standard and Low Ground Pressure gauge
Increased visibility
Wide front sweep increases machine balance
Increased performance and safety
Manual Angle Blade
The Manual Angle Blade is offered in the standard (STD) and Low Ground Pressure (LGP) style.
This versatile blade group includes a C-Frame with hydraulic tilt and trunnions as the standard.
The STD and LGP Blade's compact design offer excellent visibility with increased machine balance and enhanced machine performance.
---
A Dual Tilt Cylinder Kit is an available option for this product. It will turn the manual angle blade into a fully hydraulic operation.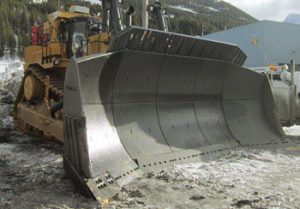 High Capacity Blade
The perfect angle for fast penetration and filling material into the blade.
An aggressive cutting edge stands up to the toughest conditions.
Standard OEM hook up allows machine and blade interchangeability.
High Capacity Dozer Blade
The High Capacity Blade has an optimum curvature to maximize the carrying capacity of the machine. Its unique combination of size, strength and weight achieves outstanding productivity and low maintenance costs.
---
Options include:
OEM original or aftermarket Ground Engagement Tools (GET)
Wear packages to suit the application (liner packages and shrouding)
Heavy-duty rock guard/spill guard
Custom designed to match machine capacity and specific application