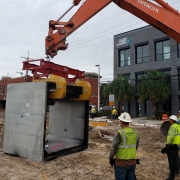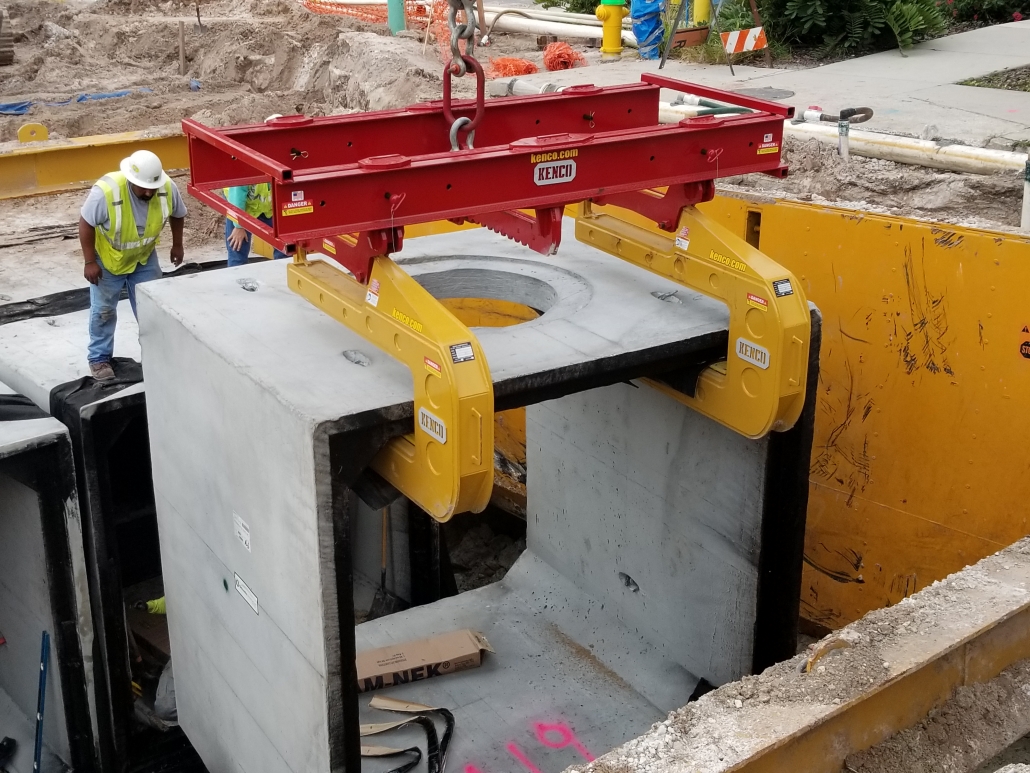 "This is on the Cypress Street Outfall Regional Stormwater project in downtown Tampa, Florida. This is a design-build project that involves over 6000 feet of box culverts including double 8'x8', single 10'x5' and single 6'x5' sizes. Along with the box culverts we are replacing all of the existing drainage and utility lines and adding a 36" water transmission line. Once the drainage and utilities are complete we are completely rebuilding the streets with new curbs, sidewalks, etc."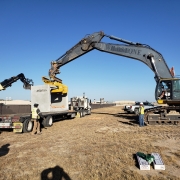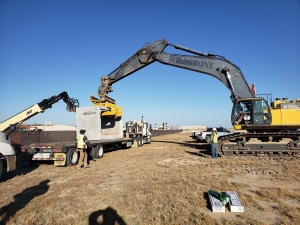 Using Dual Hook Lift with cement blocks sized 12′ x 6′ x 3′. "Pretty easy to set up and use."
Laughlin AFB Drainage Ditch
Del Rio, Texas
The Pipe Hook has made life alot easier for the employees and the operator…easier and less time-consuming
We used to move pipe with cables and chains until we saw the Pipe Hook advertised in a magazine. Moving pipe with the Pipe Hook has proven to be a much faster process. It's alot more accurate through the procedure, and most importantly, much safer
We installed 84 inch – 25,000 pound elliptical pipe in record time… time improvements of 60% for a hook/set cycle
We use the Pipe Hook every day to put in storm drainage systems. The Pipe Hook is much easier and less time-consuming than using slings and cables. The Pipe Hook has saved us time and money.
This is in response to a survey sent to us by Kenco with regards to the Pipe Hook currently in use on Bowen Engineerings' Seymour project. It is our first experience with your products. I am including some photos of the hook in action laying C-76 60 inch RCP. We are pleased with the hook and have seen greatly reduced hook/set cycle times during the laying operation. Safety with the hook compared to traditional methods of C-76 pressure class RCP ( i.e.: chains or steel cables) is much better. This is our first experience using the hook. All that is required to place the pipe in the ditch is to connect a 15 foot rigging to the excavator. Our placement method up to this time has been to use a rigging chain 3/4 inches in diameter and weighing in at about 300 pounds, a difficult method to say the least. Steel chokers are another often-used method. Balancing and removing with these methods are much more time-consuming. Time is money on the site and we have seen time improvements of 60% for a hook/set cycle. I would rate the Kenco Pipe Hook a 10 for setting pressure class RCP. I would not recommend the hook to other contractors because I believe it provides us with a competitive edge.".
R. Carpenter Construction Inc. of Joppa, MD used Kenco's self-leveling Pipe Hook for a project consisting of providing all outside utility work and paving for a new Commerce Bank through Custom Commercial. The Pipe Hook proved to be a big time saver for the work required.