HORIZONTAL SLAB LIFTER TESTIMONIALS AND JOB STORIES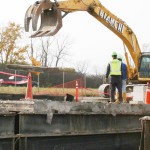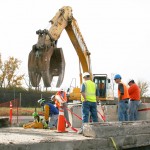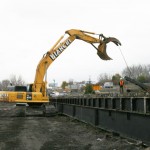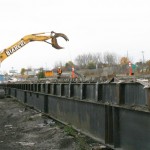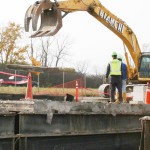 Click on the thumbnails for a larger view of the Bianchi Demolition Project.
HONEYWELL BRIDGE DISMANTLEMENT
Syracuse, New York – Bianchi Demolition, LLC, of Syracuse, New York, a nationally recognized demolition firm was recently awarded the demolition of the Onondaga Lake Bridge along the south shore of the lake. The bridge was built to carry traffic and pedestrians from the west to east; however, it also contained the 36″ forced sewer main on the south side which was the City of Syracuse's entire waste from the west side of the city to the metropolitan treatment plant. Due to the forced main, there could be no vibration during the demolition, and each day vibration monitors were in place. If the forced main were to incur some sort of penetration or separation, the emergency out flow would deposit three million gallons of raw sewage into the lake per day.
The structure was built out of bridge steel with three rows of concrete panels for the decking. Each panel was three feet by ten feet by one foot thick, weighing approximately six thousand pounds. The bridge was approximately nine hundred feet long; each of the three lanes had three hundred concrete panels.
The estimate was calculated on rigging and removing one panel every two minutes with one operator, one hydraulic excavator, and one laborer with nylon slings.
Upon discussing our material handling needs with Kenco representative Tracy Black, I was directed to Gregroy Cveykus, Director of Engineering and Design; collectively we opted to go with the Slab Lifter, mainly for the safety aspect.
Once we received the Slab Lifter and put it to work, we found it saved us a considerable amount of time and dollars. By using the Slab Lifter, we removed panels with only a machine operator and excavator, without the need for laborers. It took just fifteen seconds per panel for removal and placement. This calculated out to be an enormous time saver. It literally cut seven eighths of the estimated time out. What was projected to take six weeks was accomplished in two and a half days.
David Bianchi, managing partner, Bianchi Demolition, Syracuse, NY