OUR CUSTOMERS SAY IT BEST.
Slab Crab®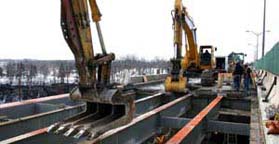 The Slab Crab is safer and much less labor intensive than other methods of removing slabs. Debris isn't much of a factor, because the slabs can be removed intact.
-Bob Spengler,
Oak Grove Construction, NY
Pipe Lift™
We've doubled our production with the Pipe Lift.
-Sowers Construction,
Mt. Airy, NC
Compared to how we used to move pipe with straps and cable, the Pipe Lift is much safer, saves alot of time, and increases productivity.
-Troy Immel, Robert J. Immel Excavating,
Greenville, WI
Barrier Lift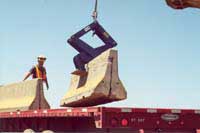 We use the Barrier Lift daily on all of our barrier jobs. It's quicker, safer and it works great! In the precast barrier industry when it comes to installing, resetting or removing barrier, the barrier lift can be the most cost effective tool owned by a contractor.
-David Shellhammer,
Ann-Lee Construction
& Supply Company Inc.,
Saltsburg, PA
…the Barrier Lift uses a scissor action and urethane pads to grip the barrier wall. It automatically opens when the barrier is set down, eliminating the need for one laborer per lifting cycle.
-"Product and Quality" newsletter,
Kiewit Construction Group,
Omaha, NE
Horizontal Slab Lifter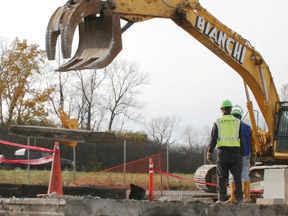 It literally cut seven eighths of the estimated time out. What was projected to take six weeks was accomplished in two and a half days.
-David Bianchi, Bianchi Demolition,
Syracuse, NY
Pipe Hook
We use the Pipe Hook every day to put in storm drainage systems. The Pipe Hook is much easier and less time-consuming than using slings and cables. The Pipe Hook has saved us time and money.
-Herman Price, Trader Construction,
Pope Air Force Base, NC