QUICK COUPLERS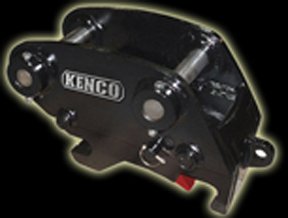 CHANGE ATTACHMENTS IN SECONDS! INCREASE YOUR PRODUCTIVITY, EFFICIENCY, AND PROFITS! Available in sizes for all excavators, including Gradall applications. Built tough to withstand demanding demolition projects.
"We use a Kenco Coupler almost every day while working on water lines, electric lines, and septic systems. Bucket changes can be made quickly and easily."
C & C Trucking and Excavating, Akron, NY
POWERTILT COUPLERS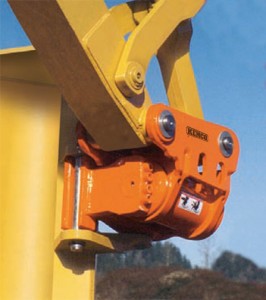 POWERTILT ADVANTAGES
Up to 180° side-to-side bucket swing
Narrow, compact configuration
Built-in quick coupler for OEM buckets or Wainroy Universal - Coupler® makes tool changes fast
Compatible with majority of industry-standard hydraulic quick couplers
No cylinder rods or external moving parts
Individually customized to fit your machine
Save time on countless everyday jobs by simply tilting your bucket instead of moving the entire machine. A rugged attachment engineered for regular day-to-day use, the PowerTilt® is ideal for cleaning ditches, digging beveled trenches, spreading rip-rap, and positioning brush cutters, mowers and hydraulic hammers.
Unique Kenco GRADALL Application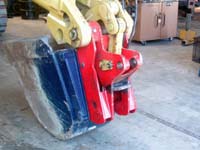 Kenco offers a hydraulic-latching coupler designed specifically to fit the Gradall excavator.
SPECIFICATIONS FOR POWERTILT COUPLERS
| | | | | |
| --- | --- | --- | --- | --- |
| PT-6 | 160 lb (75 kg) | 8,400 lb (3,800 kg) | 180° | 0.8-1.5 gpm (3-6 l/min) |
| PT-6W | 180 lb (85 kg) | 10,500 lb (4,775 kg) | 180° | 0.8-1.5 gpm (3-6 l/min) |
| PT-7 | 320 lb (145 kg) | 15,000 lb (6,800 kg) | 180° | 1.5-3 gpm (6-12 l/min) |
| PT-8 | 425 lb (195 kg) | 20,000 lb (9,100 kg) | 180° | 3-5 gpm (12-20 l/min) |
| PT-9 | 575 lb (260 kg) | 28,700 lb (13,000 kg) | 134° | 6-7 gpm (24-28 l/min) |
| PT-10 | 850 lb (385 kg) | 45,000 lb (20,000 kg) | 134° | 6-8 gpm (24-32 l/min) |
| PT-11 | 1,200 lb (545 kg) | 60,000 lb (27,000 kg) | 134° | 8-11 gpm (32-44 l/min) |
| PT-12 | 1,500 lb (680 kg) | 75,000 lb (35,000 kg) | 134° | 9-13 gpm (36-52 l/min) |