KENCO HARDROCK THUMBS ARE AVAILABLE IN BOTH WELD – ON MECHANICAL AND HYDRAULIC MODELS.
Thumb widths of 8 inch, 12 inch, 18 inch, 24 inch, 32 inch, 34 inch, and 36 inch are available (dependent on the size of machine).
Kenco also offers a Direct Mount Hydraulic Thumb model. Pricing and availability on request.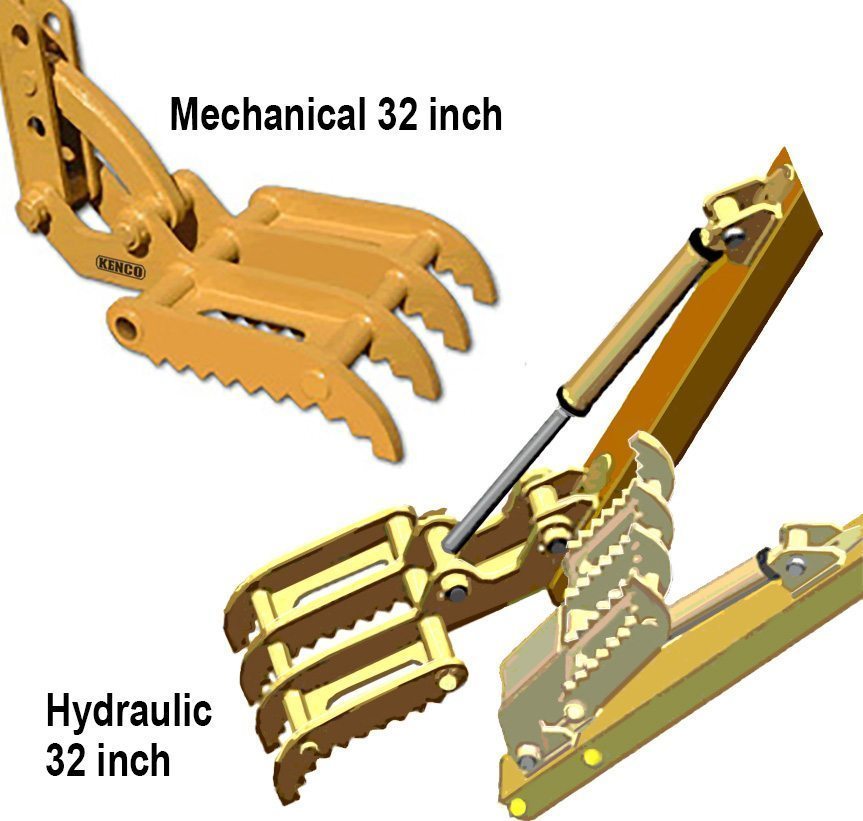 MECHANICAL THUMB SPECIFICATIONS
Machine
Class
Thumb Width in inches
Thumb Length in inches
Thumb Weight in pounds
Pin
Diameter
Tine
Thickness
# of
Tines
3-10,000 lb
8 inch

8 inch

28 inches

34 inches

106 lbs

127 lbs

2.00 inches

2.00 inches

0.50 inches

0.50 inches

2

2

10-20,000 lb
12 inch

12 inch

12 inch

35 inches

40 inches

48 inches

297 lbs

350 lbs

390 lbs

2.00 inches

2.00 inches

2.00 inches

.75 inches

.75 inches

.75 inches

2

2

2

20-33,000 lb
18 inch

18 inch

46 inches

56 inches

580 lbs

780 lbs

2.00 inches

2.00 inches

1.00 inches

1.00 inches

4

4

33-40,000 lb
24 inch

24 inch

53 inches

62 inches

890 lbs

980 lbs


3.00 inches

3.00 inches

1.50 inches

1.50 inches

4

4

40-60,000 lb
32 inch

32 inch

58 inches

69 inches

1,070 lbs

1,190 lbs

3.00 inches

3.00 inches

1.50 inches

1.50 inches

4

4

60-80,000 lb
34 inch

36 inch

65 inches

73 inches

1,920 lbs

2,060 lbs

3.50 inches

3.50 inches

2.00 inches

1.625 inches

4

4

80-110,000 lb
34 inch

36 inch

75 inches

84 inches

2,100 lbs

2,950 lbs

3.50 inches

3.50 inches

2.00 inches

2.00 inches

4

4
HYDRAULIC THUMB SPECIFICATIONS
Machine
Class
Thumb Width in inches
Thumb Length in inches
Thumb Weight in pounds
Pin
Diameter
Tine
Thickness
# of
Tines
3-10,000 lb
8 inch

8 inch

28 inches

34 inches

100 lbs

135 lbs

2.00 inches

2.00 inches

0.50 inches

0.50 inches

2

2

10-20,000 lb
12 inch

12 inch

12 inch

35 inches

42 inches

48 inches

280 lbs

330 lbs

365 lbs

2.00 inches

2.00 inches

2.00 inches

.625 inches

0.75 inches

0.75 inches

2

2

2

20-33,000 lb
18 inch

18 inch

50 inches

60 inches

560 lbs

765 lbs

2.00 inches

2.00 inches

0.75 inches

0.75 inches

4

4

33-40,000 lb
24 inch
58 inches
820 lbs
3.00 inches
1.25 inches
4
40-60,000 lb
30 inch

30 inch

62 inches

69 inches

980 lbs

1200 lbs

3.00 inches

3.00 inches

1.25 inches

1.50 inches

4

4

60-80,000 lb
34 inch
63 inches
1980 lbs
3.50 inches
2.00 inches
4
80-110,000 lb
36 inch
84 inches
2995 lbs
3.50 inches
2.00 inches
4