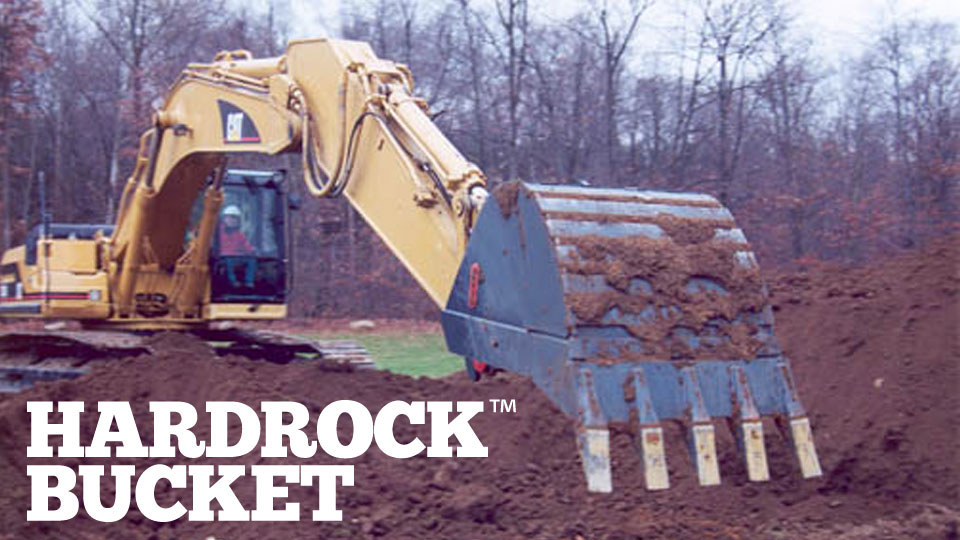 KENCO OFFERS VIRTUALLY ANY SIZE AND TYPE OF HEAVY DUTY BUCKET FOR EVERY DIGGING REQUIREMENT!
HARDROCK BUCKETS FEATURE:
Double Sidewall Construction
AR 400 steel construction
Choice of teeth: ESCO, CAT, Hensley
Tapered Design (won't stick in the trench)
Deep profile offers extra capacity
BUILT STRONGER THAN MOST OTHER "EXTREME DUTY" BUCKETS!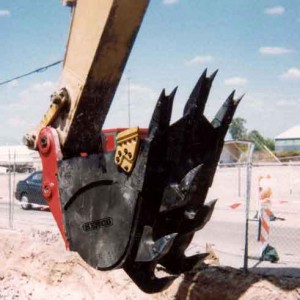 Cuts quickly through hard soil conditions and withstands intense digging requirements. Claw-like replaceable teeth extend below the bucket's digging depth to break up the next layer for continuous digging.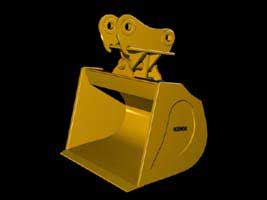 Features a 45 degree tilt both left and right. Excellent versatile tool for sloping banks for grade, ditch cleanup, and contour sloping. Available in sizes from 48 inches to 96 inches and of .5 to 4.25 cubic yards.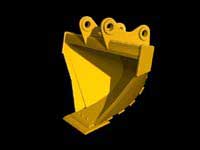 Constructed with a heavy duty construction and available in drop center configurations. Custom builds are available. Available in sizes from 18X60  to 42X84 inches.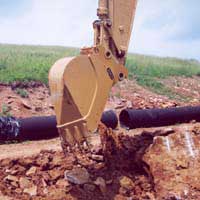 The V shaped design gives this bucket unprecedented penetration to dig through frost, shale, or rock. Heat treated alloy construction gives superior strength and wear in the roughest of conditions.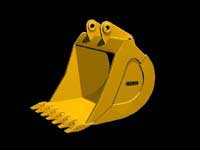 Features T-1 steel liner, two-piece side plates, hard surfacing, and abrasion-resistant cutting edge. Available in sizes from 36 to 60 inches width and of  7/8 to 4.0 cubic yard.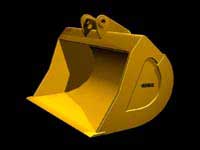 Open design for easy cleanout, cutting edge is drilled for bolt-on edge. Available in sizes from 48  to 96 inches width and of 7/8 to 5 7/8 cubic yards.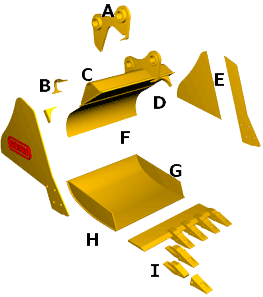 A. T-1 Lugs with Hardened Line-bored Bushings
B. Standard Lifting Eye
C.High Strength Triangular Torque Member
D. Heavy Duty Corner Gusset
E. High Strength Abrasive Resistant Side Edges
F. Rolled Backplate
G. Replaceable Dual Radius Double Walled Shell
H. Hardened Abrasive Resistant Cutting Edges
I. High Strength Heavy Duty Teeth and Adapters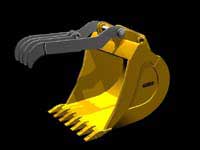 Bucket clamps are available for every type of excavator bucket, brush rake, or blade. They are available as two, three, or four tine models. Available with mechanical struts, direct hydraulic, or progressive linkage to provide additional travel and fixed pin adjustment.