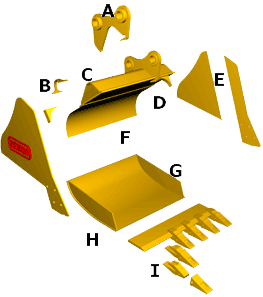 A. T-1 Lugs with Hardened Line-bored Bushings
B. Standard Lifting Eye
C.High Strength Triangular Torque Member
D. Heavy Duty Corner Gusset
E. High Strength Abrasive Resistant Side Edges
F. Rolled Backplate
G. Replaceable Dual Radius Double Walled Shell
H. Hardened Abrasive Resistant Cutting Edges
I. High Strength Heavy Duty Teeth and Adapters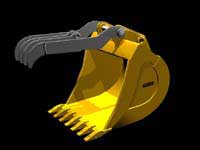 Bucket clamps are available for every type of excavator bucket, brush rake, or blade. They are available as two, three, or four tine models. Available with mechanical struts, direct hydraulic, or progressive linkage to provide additional travel and fixed pin adjustment.