Kenco Corporation
Kenco attachments are better engineered and more ruggedly constructed to provide you with years of dependable service. Excavator attachments, wheel loader attachments, backhoe, dozer, and skid steer attachments for construction and demolition projects are available, plus custom designs for a specific attachment can be accomplished by our engineering team.
Learn More About Kenco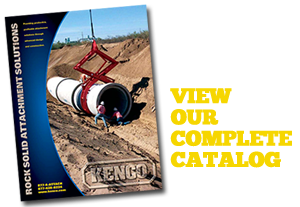 Compared to how we used to move pipe with straps and cable, the Kenco Pipe Lift is much safer, saves a lot of time, and increases productivity.
Troy Immel, Robert J. Immel Excavating, Greenville, WI

REQUEST A QUOTE
To request a quote, please click the button below and fill out the form. Thank You!
Get Quote
KENCO: Lifting Tongs and Attachments
Kenco has been field-proven time and again by our customers through increased productivity and profits with our excavator attachments, wheel loader attachments, backhoe attachments, skid steer attachments, or forklift attachments. Others may try to imitate our lifting devices, but no competitive model can compete with the strength and durability that we build into each of our products. Find pipe tongs, scissor lifts, wall clamps, Slab Crabs, and much more. We also offer a wide range of digging, demolition, and material handling attachments for excavators, backhoes, and skid steers.
For more information about Kenco attachment solutions, call today:
1-800-653-6069 or email us at: sales@kenco.com